The future is in safe hands!
Read time: 3 mins
Publication:
Alumni interview
Mercedes Bragg is an Assistant Manager in our Training team, having joined the firm in 2015. She left five years later to take a role in an on-site education department in the Prison Service, before returning in 2021.  In this interview, Mercedes talks about her career and how her role has evolved during her time with us.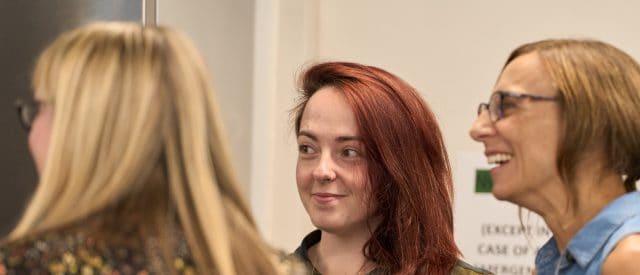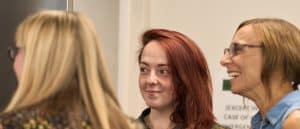 Q. Tell us about your role
I'm responsible for looking after the firm's cohort of trainees – primarily recent graduates and school leavers who have joined us to study for their accountancy or tax qualifications.  On a day-to-day basis, this involves scheduling training modules and exams, keeping on top of the associated paperwork and compliance requirements, monitoring each trainee's progress and providing supporting to everyone at every step of the process.  

The size of the intake has grown considerably since I joined, so there's never a quiet day.  As part of my role, I'm also one of the firm's Mental Health First Aiders and organise a number of wellbeing, sporting, fundraising and social activities.
Q. How did you join PKF?
I started my working life in retail, becoming a manager for a chain of DIY stores and earning a forklift truck licence (now sadly expired) in the process!  I then became an estate agent but realised very quickly that it wasn't for me.  I spotted a vacancy at the firm, managed to get the job and then spent five very happy years in the Training team.
Q. What did you do next?
During lockdown, I was offered the chance to join an on-site education department in the Prison Service, which was one of those out-of-the-blue opportunities that I couldn't turn down.  I was there for almost a year before I was tempted back!
Q. What brought you back?
I stayed in touch with a number of people when I was working for the Prison Service.  They kept me up to date with the firm's progress, and how the trainees that I used to manage had been getting on.  This made me realise how much I missed my former team and the sense of pride I felt when I saw the trainees develop professionally and personally.  After reflecting on my time in the Prison Service, I was invited back to PKF and was very happy to return.
Q. What do you enjoy most about your role?
The people here are great, and help to create an approachable, friendly atmosphere. I also enjoy the role itself; it feels like a natural fit for my skills and personality.  I become heavily invested in the trainees that I manage; I get to know them well and share their highs and their lows. And I appreciate the fact that we're all given the opportunity to make a difference within the firm – for example, I've been given the chance to drive forward initiatives like our games night, book club and Tough Mudder fundraising.
Q. You mentioned that you're a Mental Health First Aider.  What does that involve?
We live in a society where some people are still reluctant to talk about their mental health due to, for example, a fear of being judged.  I want to help change that.  That's why I became a Mental Health First Aider.  I believe that everyone should have access to someone to talk to about mental health issues; and even if they don't ever take up the opportunity, the fact that they know that someone's there for them is often enough to make a difference.
I'm pleased to say that the role has exceeded my expectations. As part of my Training role, I've long been a trusted confidante for the trainees that I look after, and it's encouraging that I can also now support a broader range of my colleagues through the Mental Health First Aider initiative.  It makes me feel like I'm making a difference.
This article appeared in our Alumni newsletter in February 2023.
---
---
---